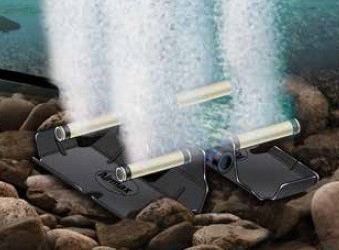 Blue Frog Water Gardens provide aeration services that will improve your water and wastewater quality.
We understand that improving water quality is not a simple task. Using our aeration systems and water conditioners will improve your pond or lake shoreline with results you can see.

With more than twenty years experience in the water and wastewater industry.
We are committed to delivering high-quality, professional aeration care to your water property.
Electric Aeration Systems - Offered in four types of series, these pond aeration systems can aerate a pond up to 6+ acres and 50' deep.
Shallow Water Series™ - Are designed for ponds up to 6' deep and have 2 or 4 diffuser plates. These energy efficient systems feature a dual-diaphragm compressor.
Shallow Water HP Series™ - Are designed for ponds up to 10' deep and have 2 or 4 diffuser plates. These systems use rocking piston compressors.
Pond Series™ - Available with 1-4 diffuser plates, these systems use rocking piston compressors that can be used in ponds up to 21' deep. A Deep Water Kit can be added to aerate ponds 22'-50' deep.
Lake Series™ - The biggest systems, able to aerate up to 50' deep. These units contain two rocking piston compressors housed within one cabinet and 4 or 6 diffuser plates.
Solar Powered Aeration Systems- Another alternative energy option for customers looking to go green. These pond aeration systems can be used in ponds up to 25' deep and can have up to 4 diffuser plates.

Decorative Fountains - Can also be used for aeration during the warmer seasons. Because the motor sits at the surface of the pond, the effectiveness is limited to 6' deep.
Surface Aeration - Similar to fountains, these systems have a limited capacity for aerating a pond. If your pond is less than 6' or you would like to see a lower-profile of water movement than what a fountain can offer than these are the systems for you.
Docks & Marinas - Problems with weeds in your dock area? Weeds Away system will help keep your docks free and clear. Looking for a de-icer for keeping your boat from ice forming around the hull? Ice Eater is the solution.
Aeration improves the circulation of your water, speeds up decomposition of organic matter, reduces algae growth, deters weed growth,
as well as reduces pond odours.
Contact us to arrange a site visit to determine the optimal system for your aeration needs.